What does the residential unit at the hospice offer?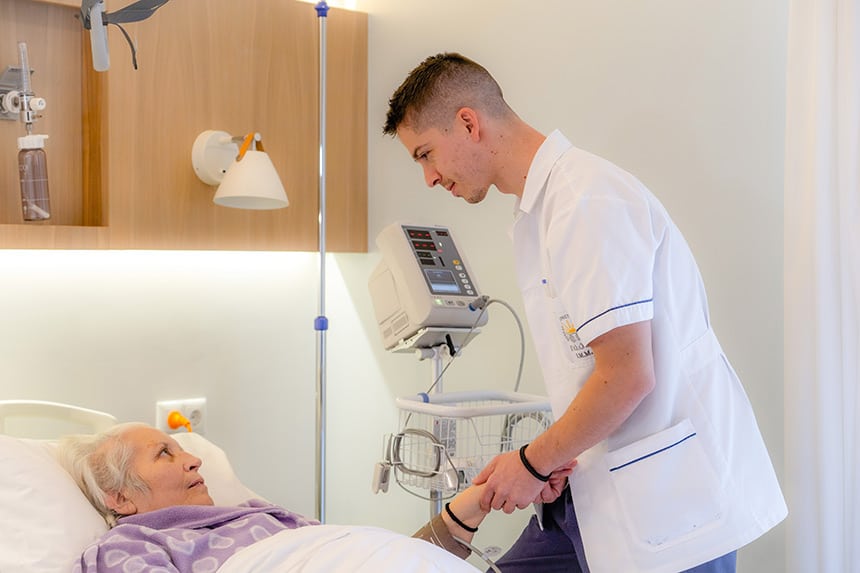 Our residential unit is a well-equipped and modern care facility where our specialised and caring staff provides palliative care free of charge to patients who want to stay here for a variety of reasons:
Patients may need help with difficult symptoms which cannot be managed adequately at home, such as pain, nausea, breathlessness, severe discomfort etc.
Patients' families may need help and support in coping with the demands of caring for someone with a serious illness, and this will give them a short period of respite from their caregiving responsibilities.
Patients who are in the terminal stage of an illness may wish to receive specialised care that can be provided at the
Our residential unit opened on 29 January 2018 and it is the first of its kind in Greece.  We provide our services free of charge, irrespective of whether patients are privately insured or entitled to state health care or not.
If you are in need of our care we would be glad to have you to stay at our hospice.
---
Frequently Asked Questions about the Hospice
The residential unit is located in Spata, at 23 Agiou Dimitriou Street.  There are two twin rooms and five single rooms spaced over two floors, with nine patient beds in total.
You will stay in a single or twin room depending on availability, the level of nursing care you need, and your wishes.
Each room is equipped with modern hospital beds, its own bathroom, a small basically equipped kitchen, closets, a television, and a telephone.  The hospice has an intercom system so that patients can contact the nurses when needed, and free wi-fi.
There are also beds for caregivers to stay alongside patients.
On the first floor there is a warm and light sitting room for the use of families and patients.  This contains a library and you are free to borrow books from here.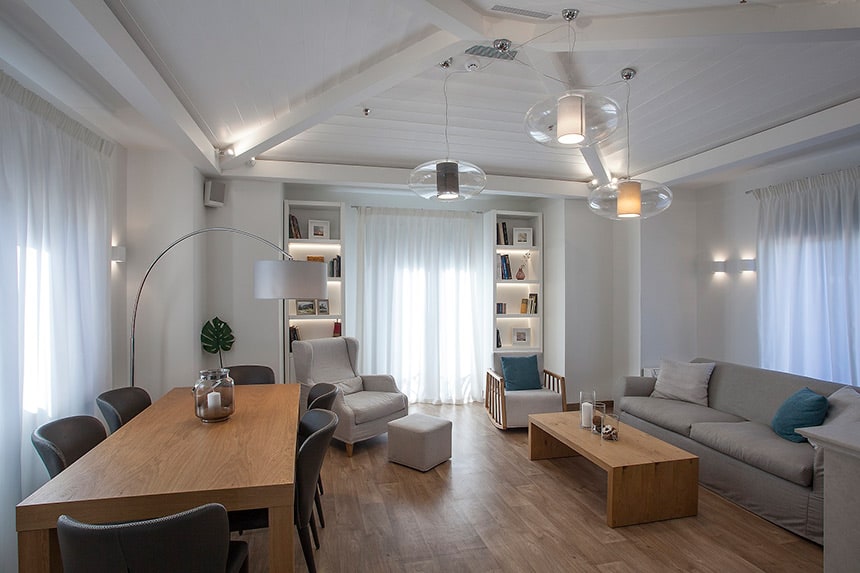 The hospice is staffed by palliative care nurses and trainee nurses, who are all members of the interdisciplinary team.  The doctors, social workers, psychologist, and physiotherapist will come to visit you in the morning, depending on your needs.
Although a doctor is not present at the hospice during the afternoons and evenings, there is always a doctor on call.
It is possible, for those who wish, to speak with a priest and attend a sacrament.  In addition, on Tuesdays and Thursdays you can take part in the programme at the day care centre.  If you are not able to leave your bed, you can ask for one of our volunteers to spend time with you on some craft activity or simply to keep you company.
The length of stay differs from patient to patient, but as a rule you will stay at the hospice for approximately two weeks.
The condition of your health will be constantly monitored by our staff. If you continue to need palliative care, although not as intensively as that available at the hospice, we usually advise patients to continue receiving care at home from our team. If you live outside the area of the Metropolis of Mesogaia and Lavreotiki we will try to link you up with the appropriate support providers.
Many people are often anxious and afraid when they come to the hospice, because they may think that they will be staying there permanently and not going home.
In reality care at the residential hospice is only for a short period, and patients then go back home, since our aim is for patients to be cared for in their preferred environment.
Should it be necessary, and based on the assessment and recommendation of our health-care team, it may be possible for you to stay slightly longer at the hospice. Of course you may stay at the hospice again at a later time, if needed.
You will need to bring with you sufficient medicines for your stay, since the hospice does not keep a supply of medicines or have a pharmacy.  Any unused medicines will be returned to you at the end of your stay.  You will also need to bring your medical file with you (including test results, your medical notes, details of hospital stays, and so on).
In addition, you will need to bring your own clothes, pjamas, slippers, personal items, and toiletries (such as a comb and toothbrush).  A family member or friend will need to help with laundering your clothes, since unfortunately we are not able to provide this service.  Your room is equipped with closets where you may put all your personal items.  We recommend that you do not bring valuables or large amounts of cash with you, and the hospice assumes no responsibility for these items.
Galilee Palliative Care Centre provides and launders all linen (sheets and towels).
Your relationships with your loved ones are important to us, and we encourage friends and relatives to visit you, if this is your wish. Visiting hours are between 10am and 8pm.  If someone wishes to stay longer or to stay with you overnight, this needs to be agreed with the nursing team.
All meals are provided for patients and their caregivers, and of course these are provided free of charge. You do not need to bring anything.  Meals are served to patients at 8.30am, 1.30pm, and 6.30pm, and snacks at 11am and 4pm.  We can be flexible about these times depending on your needs and wishes.  Tea and coffee are also available throughout the day.   We make every endeavour to ensure that we serve a variety of dishes that are suitable for your condition, your particular needs, and your personal wishes.  If you have any dietary restrictions please let us know so that we can accommodate your needs.
Smoking is strictly prohibited at the hospice, and this applies to everyone: staff, patients, caregivers, and visitors.  If you wish to smoke please speak to a member of the nursing team, who will show you the designated smoking area in the courtyard.
---
More about the hospice