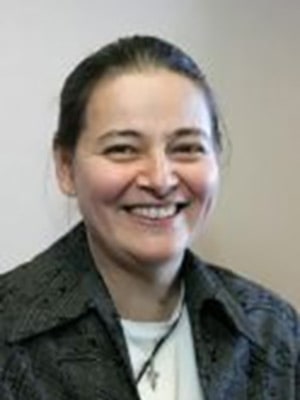 Prof Daniela Mosoiu: Oncologist specializing in Palliative Care. Chairman to the National Association of Palliative Care (ANIP). Director of Training, Strategy and National Development at the Hospice "Casa Sperantei" in Brasov, Romania. Mentor to the "International Palliative Care Leadership Development Initiative" (LDI). Special Consultant for the Unit's Development and Training.
Dr Daniela Mosoiu is a graduate of the Cluj-Napoca Medical School and holds a Doctorate from the same University. After her studies in Oncology and Palliative Care she became National Trainer in Palliative Care, accredited by the Romanian Ministry of Health. In 1995 she joined the team of the first Hospice in Romania "Casa Sperantei" and soon was given responsibility for the education and continuing professional training in Palliative care for medical and non-medical healthcare personnel. In this way she has contributed to the education of many professionals in Romania and abroad.
She is among the founders of the "National Association of Palliative Care" of Romania. In the year 2000 she led the team that succeeded in gaining recognition of Palliative Care as a Medical Specialty in Romania and at present she is National Coordinator for the Medical Specialty in Palliative Care. She is also Vice–Chairperson of the "National Commission for Palliative Care and Pain Therapy" of the Ministry of Health in Romania and as an ambassador for Palliative Care services she has contributed to the change in the legislation concerning the prescription and use of opioid medication as well as in the procedures for the implementation of this new legislation.
In 2008 she initiated cooperation between the Ministry of Health and the Hospice "Casa Sperantei" for the development of a National strategy in Palliative Care. She is the Director for National Education, Strategy and Development.
She is an Associate Professor at the Medical Faculty of Transilvania University, Brasov and coordinates thesis for master students.
She is a trainer in the European Palliative Care Leadership Program (EUPCA), Board member of EAPC, member of ASCO group that produced the stratified Guidelines for Palliative Care, member in the PAL-life group of the pontifical Academy that wrote "White paper on Palliative Care" member in the WHO working group for the "Comprehensive cervical cancer control- A guide to essential practice".
She teaches various courses in Palliative Care (including, since 2010, the first Master's Program in Romania) and has participated as a guest speaker in various conferences and symposia in Romania and abroad. In her capacity as a National Trainer she participated in training programs for Palliative Care organized by the Open Society Institute for Eastern Europe. She has published many books on palliative Care.